Qualisil cooking sheet

Product Information
Main characteristics
Images
Available Products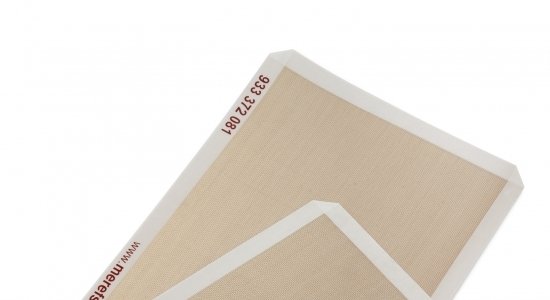 Standard oven size and made to measure Qualisil silicone cooking and baking sheets. Custom branding available.
Product Information
---
They are silicone baking mats for ovens, of superior quality, suitable for contact with food, which provide improvements and innovations in cooking, confectionery, bakery and pastry, achieving ease of demoulding and hygiene because of its innate non-stick and incredible results in difficult products such as chocolates, jellies, mousses, cakes, etc.
They provide a homogeneous baking without burns, nor drying of the food, helping the creation of new recipes for innovative cooks, giving a professional finishing touch.
Can be supplied in any size upon request. The most popular kept in stock are: 385x290 mm, 585x385 mm, 600x400 mm, etc.
Los tapetes porosos de silicona se utilizan para la fabricación de pan cuando se requiere una temperatura perfectamente homogénea en toda la superficie del producto.
We offer professionals the ability to customize silicone mats with your logo, web address, phone number, etc.
Main characteristics of the cooking mats
---
High stability due to its glass fibre core
Non-adherent, 100% smooth silicone surface.
Wide working temperature range (-50 ºC a +250 ºC)
High yield and low cost as it is reusable more than 2.000 times
So versatile it can be used in convection, microwave, traditional ovens as well as frying pans, freezers, etc.
Images
---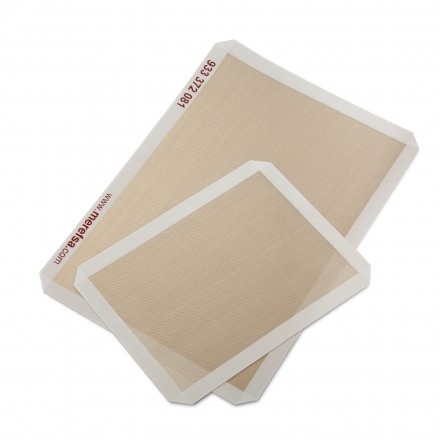 On request
If the product is not available, please indicate the features you need ...