PTFE Expanded

Product Information
Use Advantages
Assemblage
Online Stock Table
Downloads
Images
Available Products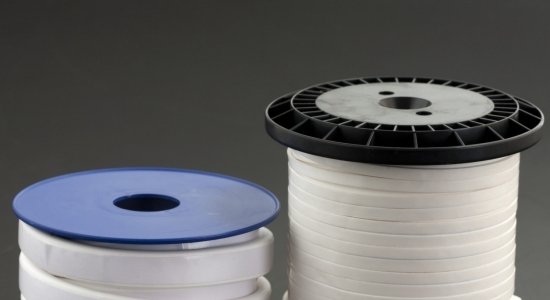 The Expanded PTFE Profile is soft, malleable and flexible with an adhesive face for comfort when installing on vertical surfaces. We supply standard plates and joints.
Product Information
---
Product manufactured from 100% PTFE, in available formats of profiles with adhesive (to make expanded ptfe joints and facilitate their fixation) and sheets, developed by the specific treatment of Fluorocarbon with PTFE. It acquires a high breaking stress, flexibility, low hardness, chemical and thermal resistance, making it an excellent material for sealing and sealing joints in the most extreme conditions.
We have different models of expanded PTFE sheet at your disposal, of 1.5 mm, 2 and 3 mm, being able to manufacture die-cut flat gaskets, standardized gaskets and a wide range of expanded PTFE profiles in stock.
Advantages of using expanded PTFE
---
Save time: the expanded PTFE is easy to install, self-adhesive, easy to cut excess or edges of the joint, non-stick, so it does not need scraping for maintenance, absorbs possible irregularities of the surface, highly compressible.
Long duration: 100% PTFE, resists compression flow and has no tearing, no assembly effort required, withstands pressures up to 210 Kg/cm2, temperature range from -265 ºC to +315 ºC, practically inert to all corrosive agents, has no expiry date, does not contaminate.
Save: with expanded PTFE there is no waste, no time wasted cutting gaskets, no maintenance once assembled, no need for large stocks, no footprint, long performance, unlimited life.
Applications: expanded PTFE gaskets for smoke and gas ducts, manhole covers and mouths, fine chemistry glass installations, heat exchangers, reinforced fibreglass tanks, pumps, steam, manhole covers, ceramics, hydraulic, pneumatic and water systems, etc.
Assemblage
---
The expanded PTFE profile is soft, malleable and flexible with an adhesive side for ease of installation on vertical surfaces.
Clean the flange, removing impurities on the surface where it will be applied.
Remove the paper from the adhesive side and place the profile in the centre of the joint to be made in the form of a flat joint.
Overlap the profile in the housing area of the locking seat by 1 to 2 cm in the same direction as the tightening.
Tighten the lock, the tight profile equals 1.5 times its width.
(In glass installations the profile must not overlap, as there is a possibility of glass breakage during tightening).
Online Stock Table
---
Rolls of commonly expanded PTFE in stock

(Taxes not included)

(Price valid for complete rolls)
Reference:
Width (mm)
Thickness (mm)
Roll length (m)
Roll weight (Kg)
(€/m)
Stock Online (rollos)
MEREXP031540
3 mm
1,5 mm
40 m
0,26 Kg
MEREXP031550
3 mm
1,5 mm
50 m
0,26 Kg
MEREXP052030
5 mm
2,0 mm
30 m
0,34 Kg
MEREXP072515
7 mm
2,5 mm
15 m
0,30 Kg
MEREXP072525
7 mm
2,5 mm
25 m
0,38 Kg
MEREXP103025
10 mm
3,0 mm
25 m
0,74 Kg
MEREXP124010
12 mm
4,0 mm
10 m
0,40 Kg
MEREXP176005
17 mm
6,0 mm
5 m
0,50 Kg
MEREXP176010
17 mm
6,0 mm
10 m
0,90 Kg
MEREXP207005
20 mm
7,0 mm
5 m
0,56 Kg
Images
---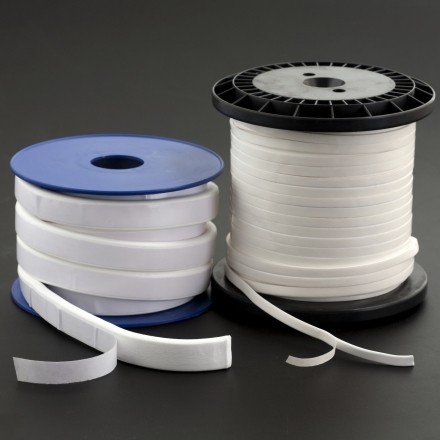 On request
If the product is not available, please indicate the features you need ...