TVT ROLL WITH ADHESIVE BACKING 0,08 mm X 40mm X 30 METERS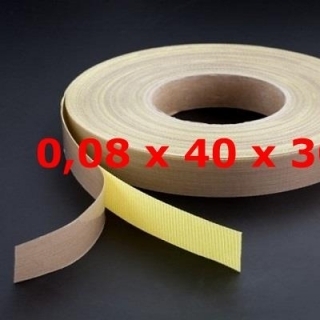 Promoted item.SPECIAL OFFER! Last rolls in stock.
- 40 %
Ahora !!!
16,79 € / Uds.
( 16,79 € / Uds. )
Offer items are special promotions for different reasons such as liquidation of excess stock, discontinued products, modification of sales mode, promotion of new items, among others. All items are with their characteristics in perfect condition. When buying the customer accepts that he has read the conditions and characteristics of the offer that are indicated in each one of them.
Reference: TVTA08R040
Description: Rollos de Tejido de Vidrio Impregnado de PTFE
Thickness (mm): 0,08
Width (mm): 40
Finish: 1 SIDE ADHESIVE
Stock : 1Uds.
P.V.P.: 27,99 € / Uds. (Taxes not included)
Now: 16,79 € / Uds. (Taxes not included)
Term: 1 to 3 day
Shippments: To any country. Shippment or pick up according to conditions (See FAQs)
FREE SHIPPING* (See conditions in the FAQs).
(Taxes not included)
ADD AND GO TO CART
Request more information

On request
If the product is not available, please indicate the features you need ...